Jurassic World: Dominion Dominates Fandom Wikis - The Loop
Play Sound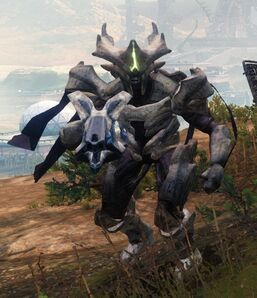 The Hive are an enemy race of unforgiving chitin-plated beings introduced in Destiny. The Hive are enslaved by the sword logic enforced by the source of their power, the worms. Forcing them to go out and conquer the universe, wiping the peoples they encounter to extinction.
The Hive was began by three members of a distant alien species, Aurash, Sathona, and Xi Ro, who became corrupted by the Darkness of the Worm Gods.[1] From these three spawned the innumerable members of the Hive army, who have claimed tens of thousands of worlds.[2] The Hive have enacted great atrocities against humanity as of appearing in Sol, as is their nature. The foremost of these is that of the Great Disaster, an attempt by an army of Guardians to rid the Moon of Crota, Son of Oryx and his brood, which resulted in the slaughter of thousands of Guardians by Crota's blade.[3] The Hive are also responsible for corrupting one of the greatest heroes in the early-City age, Rezyl Azzir.[4] Oryx, the Taken King is also to blame for the creation of the Taken, who have scourged every inhabitant of Sol in the years since his initial appearance.[5] The grand design of the curse of the Dreaming City was incited by Savathûn, the Witch Queen, sister of Oryx, as well.
However, Guardians have achieved many victories against the Hive to date. Even if after multiple failed attempts, a group of six Guardians, with the help of Eris Morn, were able to finally fell Crota in his throne world deep within the Hellmouth on the Moon. The Guardian also drove Oryx to his throne upon the arrival of the Dreadnaught in Sol, which he was pursued into by a full fireteam, and therein dealt his final death.
Notable Hive
Units
Armaments
Merchandise
Thrall
Cursed Thrall
Related
References
See Also
External Links
Destiny Universe
Characters
Events
Guardians
Items
Races