Jurassic World: Dominion Dominates Fandom Wikis - The Loop
Play Sound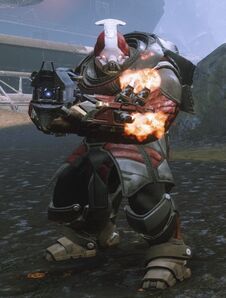 The Cabal are an enemy race of prideful warmongers, introduced in Destiny. The Cabal arrived in Sol after the Collapse, finding war with the Vex and eventually Guardians.
The Cabal Empire once had a vast reach throughout the cosmos, as they furthered their goals of expressing their incredible might and achieving exorbitant levels of opulence. This was done through waging war, and harvesting the worlds they conquer for everything they're worth. Going so far as to create the Leviathan, an enormous craft which consumes entire worlds and converts their material into royal wine. The Cabal is made up of more than the Cabal species, as some other have been annexed into the ranks of the Empire. Of these species are included the Psions and the War Beasts, the former of which containing immense psychic power and future sight.
Cabal forces of many detachments have been encountered in Sol in the Age of Light and prior. These include the Blind Legion, Dust Giants, Siege Dancers, and Sand Eaters. However, these forces would be replaced by the Red Legion upon its onslaught of the Last City, led by Dominus Ghaul. This siege resulted in the Cabal successfully caging the Traveler, severing Guardians' connection to its Light. However, the Guardian would retrieve their Light through a shard of the Traveler, eventually slaying Ghaul, which would result in the Traveler's awakening. After this, the Red Legion would begin to dwindle as plot after plot was dismantled by Guardians. However, in the meantime, Emperor Calus and his Leviathan would appear in the solar system shortly after Ghaul's demise. Calus and his Empire Loyalists would host many dealings with Guardians in this period, until the Emperor and his craft disappeared as the Black Fleet arrived in Sol, apparently disappearing in the wake of Mars, one of the planets in the system vanished by the Darkness. Later, Caiatl, the daughter of Calus, and new empress to the Cabal appeared in the system, attempting to rally any Cabal stragglers to prove their worthiness to join the newly reformed empire. This was in an effort to retort the Hive of Xivu Arath, which had recently overtaken Torobatl, the Cabal homeworld and capital of their empire. Caiatl proposed that the Vanguard join the ranks of the Cabal, to which Zavala denied, refusing to place humanity in such a subservient position. After a campaign to prove that Guardians are worthy equals to the Cabal Empire, Caiatl relents, and enters an armistice with the Vanguard.
Notable Cabal
Units
Red Legion
Vehicles and Armaments
Red Legion
Merchandise
War Beast
Psion
Legionary
Phalanx
Gladiator
Colossus
Goliath Tank
Thresher
Interceptor
Harvester
External Links
Destiny Universe
Characters
Events
Guardians
Items
Races